FACTORY &

EQUIPMENT
Factory / Owned equipment
HEAD OFFICE / GUNMA FACTORY

Head Office, Gunma Factory
Head office, Gunma factory produces prototype parts and press metal molds for mass production. We have a technology development department that develops new technologies and new products and an administration department that heads up all our operating divisions.
Business Scope

・Prototype sheet metal parts: From molds to products and assembly
・Machining, round bar and pipe bending end processing
・Jig design and production. Injection molds to products
・Welding with guns and robots, assembly work, bending pipes and round bars, and associated assembly work
・Production of mass production press dies and jigs
Prototype Section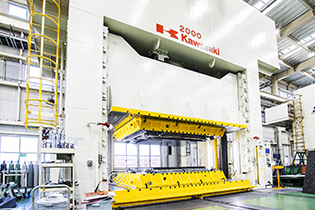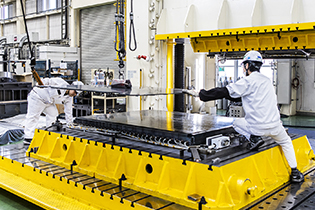 Prototype sheet metal section holds equipment for 3-D modeling from drawing data by CAD, casting of prototype mold by ZAS(zinc alloy), shaping processing and finishing by heavy machining center, sheet metal processing applicable to the various sizes by oil hydraulic press from 30-ton to 1200-ton, trimming processing by laser beam machine, welding, hand working, assembly, pipe processing, checking by 3-D measuring instrument and quality assurance , which are needed for the production of prototype sheet metal press parts and we produce in integrated production lines. In assembly, we have heavy spot welders that can process various shapes, robot welders, roller hemming processers, etc and we also have many welding technicians who are excellent in TIG welding that requires a great deal of skills. We have NC lathes , NC fraises and wire cut electric discharge machines and can machine resins and metals. At CAD section, we can do reverse engineering that makes 3-D data from various analyses and shape measured data with non-contact shape measuring instrument.
Press Metal Mold for mass production department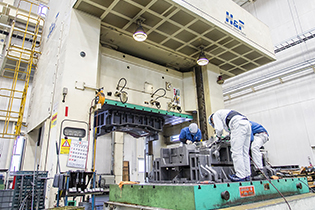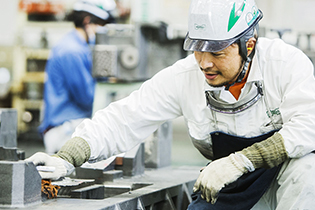 In press metal mold for mass production department, we produce metal molds for mass production such as single-shot type, transfer type, progressive type and jigs.
We design metal molds and analyze by making the best use of CAD and make a trial run with 1,000-ton mechanical press in-house.
We have good production performance of metal molds for mass production for body parts, function parts, intake and exhaust parts, seat parts for automobiles and outer parts and inner parts for motorcycles.
Layout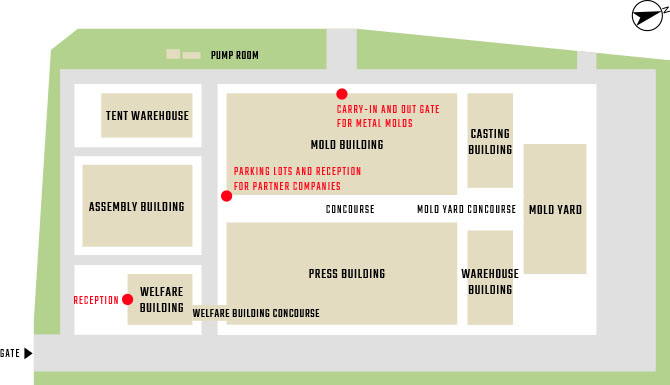 Location
2718-1, Sanwa‐cho, Isesaki City, Gunma, 372-0011 Japan
TEL 0270-75-1700
FAX 0270-75-1600
Owned equipment
2000t Hydraulic press

1000t Mechanical press

Hot press

ZAS casting

Spot welding robot system

Hemming robot system

Welding robot

Five-axis controlling machining center
Classification
Name of machine
Manufacturer
Count
Remarks
CAD
CAM
CAE
File Server for CAD
IBM
1
Windows2008Server
Client PC for CAD
HP
25
CATIA V5
PC for CAD
common HD
2
3DTascalX
PC for CAD
HP
1
ThinkDesign
PC for CAD
HP
1
GeomagicControl2015
PC for CAD
HP
1
Polyworks2015
PC for CAD
HP
1
RHINOCERROS5
PC for CAD
DELL
1
PowerSHAPE
PC for CAD
common HD
1
Nasuka
PC for CAD
HP
1
TOPsolid
PC for CAD
DELL
1
FAPTcuti
VIEWER
common HD
2
DIPROVridgeR
VIEWER
common HD
1
JT2Go
PC for Press Forming Simulation
HP
1
Auto Form
PC for Press Forming Simulation
HP
1
JSTAMP
simulator
HP
1
VERICUT
PC for process schedule(C/S)
HP
3
FATs DNC
PC for CAM(MC)
DELL
3
WORK NC
PC for CAM(MC)
common HD
1
PowerMILL
PC for CAM(MC)
common HD
2
Nasuka
PC for CAM(MC)
HP
1
CAMTOOL
PC for CAM(MC)
common HD
1
TOPmold
PC for CAM(MC)
DELL
1
PC MULTI
PC for CAM(MC)
HP
1
Tebis
PC for CAM(LA)
HP
1
Tebis
PC for CAM(MC)
common HD
2
DELMIA
PC for CAM(MC)
ANDOR
1
CAMCORE EX
ZAS Casting
Zinc Alloy Melting Furnace
-
1
capacity 1.0ton
Zinc Alloy Melting Furnace
-
1
capacity 1.5ton
Zinc Alloy Melting Furnace
-
1
capacity 3.0ton
Self-Hardening Casting Sand Kneader
Taiyo Machinery
1
Long Arm Mixer LAMA-5S 5ton/H
Machining Center
Double-Column 5-Face Precision MC
Shin Nihon Koki
1
RB-4N(4000×2000×600 (1100))
Double-Column 5-Face Precision MC
Mitsubishi Heavy Industries
1
MVR40(5000×3000×800 (1100))
Double-Column 5-Face Precision MC
Mitsubishi Heavy Industries
1
MVR25(3000×1500×800 (1100))
Double-Column 5-Face Precision MC
Mitsubishi Heavy Industries
1
MVR25Ex(3000×1500×800 (1100))
Vertical-Type MC
OKK
1
VM7Ⅲ(1550×740 ×660)
Vertical-Type MC
OKK
1
VM-900(2200×900 ×650)
Styrofoam-pattern-processing MC
Kikukawa
1
MC-713-1S(4000×2100(1100))
Three-axis controlled MC
YCM
1
NMV106A(1020×600×600)
Three-axis controlled MC
YCM
1
NMV76A(762×510×560)
Five-axis controlled MC
Makino
1
V55-5XA(900×500×450)
Five-axis controlled MC
Ohtori-Kiko
1
OSU545(500×400×400)
Shearing
Band saw
Shearing
Amada
1
H-1213(13mm MAX)
Shearing
Amada
1
DCT2565(6.5mm MAX)
Shearing
Amada
1
DCT3065(6.5mm MAX)
Band saw
Amada
1
V400
Band saw
TOKYO SHINDENKI
1
HT-10
Band saw
Amada
1
V500
Band saw for FMC
Kiyota-Koki
2
KY-600APH 600×600
Band saw for FMC
Kiyota-Koki
1
KY-1000AP 600×1000
Press Machine
Hydraulic Press
Kawasaki
1
2000ton table5000×3000 stroke1700
Hydraulic Press
Kawasaki
1
1200ton table3500×2500 stroke1500
Hydraulic Press
Sanki
1
1000ton table3500×2500 stroke1700
Hydraulic Press
Kawasaki
1
800ton table3500×2500 stroke1500
Hydraulic Press
Sanki
1
600ton table2500×1500 stroke1200
Hydraulic Press
Sanki
1
500ton table2000×1500 stroke1100
Hydraulic Press
Sanki
1
500ton table3000×2000 stroke1500
Hydraulic Press
Kawasaki
1
500ton  table1800×1200 stroke1000
Hydraulic Press
Sanki
1
300ton table1600×1000 stroke750
Servo Press
Aida
1
300ton table1700×1200 stroke400
Hydraulic Press
Sanki
2
150ton table1000×1600 stroke750
Hydraulic Press
Hydraulic
1
150ton table1200×650 stroke500
Hydraulic Press
Osaka-Jack
1
100ton  table1500×800 stroke300
Hydraulic Break Press
Amada
3
60ton  table1000×440 stroke150
Hydraulic Universal Press
Amada
6
30ton table440×550 stroke100
Norton Press
Amada
1
50ton Deep Drawing Press table560×800 200
Mechanical Press
Amada
1
110ton
Hydraulic Press(CFR-1812-300FG)
Sanki
1
300ton table1800×1200 stroke900
Disk Puncher
Fujikikou
1
30ton
Die Quench
Die Quench System
with Automatic Loader
AP&T
1
3-step Heating Furnace,
Maximum Material Size 2040×1600
Heating Furnace for Die Quench
YAC DENKO
1
Maximum Material Size 1800×900
Laser
Processing
2-D Fiber Laser Processor
TRUMPF
1
TruLaser3030fiber 3.0KW
3-D 5-axis Laser Processor
Komatsu
1
3.3KW (1900×3100×800)
3-D 5-axis Laser Processor
Komatsu
5
2.0KW (1900×3100×800)
2-D 3-axis Laser Processor
Komatsu
1
2.0KW (1500×3000×800)
Laser Marker
Keyence
1
YV4Laser Processible Area 120×120
Former
Craft Former
Eckold
1
KF340 W680×L1215×H1760
Hand Former
Eckold
1
HF100 W390×L700×H960
Caulking
Caulking Machine
Brother
1
BR2-121
Caulking Machine
HINO
1
200V
Riveting Machine
Yoshikawa Iron
1
US-150
Hemming
Roller Hemming Robot System
Try Engineering
2
RHS-300L(table2)
Welding
Machine
Disk laser Welding Robot System

  ・Brazing welding
  ・Remote welding
  ・Aluminum Hybrid welding
TRUMPF
(laser oscillator)
1
TruDISK 6001 output:6kWh
Robot:KUKA
Brazing welding head:SCANSONIC AL0-3(High speed camera built-in type),
Remote welding head:TRUMPF PFO-3D
Aluminum Hybrid welding head:FRONIUS
Spot Welder
Panasonic
1
50kVA
Stationary Spot Welder
Dengensha
2
35kVA
Stationary Spot Welder
Nasutoa
1
60kVA
Stationary Spot Welder
Nasutoa
1
125kVA
Stationary Spot Welder
Nasutoa
2
150kVA
Argon Welder
Panasonic
2
300A Tig
Argon Welder
Panasonic
2
YC-300BP2
Argon Welder
Panasonic
1
200A Tig
CO2 Welder
Panasonic
6
-
CO2 Welder
Daihen
1
-
Portable Arc Welder
Daihen
1
250
CMT Cold-Metal-Transfer
Low Temperature Welder
Fronius
1
400A
CMT Welding Robot
Fanuc
1
Robot ARC mate 100iD CMT Fronius TPS/400i
Welding Robot
Yasukawa
1
-
Welding Robot
Panasonic
1
350A
Welding Robot Plasma combined use
Panasonic
1
3-D 6-axis Power500A Plasma350A
Welding Robot
Panasonic
1
3-D 6-axis Power 450A 
One-Jig Welding Robot
Panasonic
3
TAー1800WG3
Spot Welding Robot System
Fanuc
2
RobotM-900i Traveling Type
Spot Welding Robot System
Fanuc
4
RobotR-2000iB/RobotR-2000iC
Spot Welding Robot System
for car body
Fanuc
2
RobotR-2000iC/210F
Three-Phase DC water cooling Spot Welder
Tecna
1
ART-3650
Voltage Converter for Portable Spot Welder
Nasutoa
1
180kVA
Voltage Converter for Portable Spot Welder
Denyo
1
180kVA
X-shaped Spot Welding gun
Denyo
4
Reach500 500kgf
X-shaped Spot Welding gun
Denyo
1
Reach800 200kgf
X-shaped Spot Welding gun
Denyo
1
Reach800 500kgf
X-shaped Spot Welding gun
Denyo
1
Reach700 500kgf
X-shaped Spot Welding gun
Denyo
2
Reach400 500kgf
X-shaped Spot Welding gun
Denyo
1
Reach300 500kgf
X-shaped Spot Welding gun
Denyo
1
Reach300 200kgf
X-shaped Spot Welding gun
Denyo
1
-
C-type Welding Gun for Spot Welding
Denyo
1
Reach350 200kgf
C-type Welding Gun for Spot Welding
Denyo
1
Reach150 500kgf
C-type Welding Gun for Spot Welding
Denyo
1
-
Argon Welder
Panasonic
4
300A
Argon Welder
Panasonic
3
200A Mig
Mig Braze Welder
Panasonic
1
350A
Welder
ARO
1
Reach800 16000A 400
Servo Seam Welder
DENGENSHA TOA
1
RCG-155S 155KVA
Seam Welder
Aichi Sangyo
1
48kVA
Spot Welder
Panasonic
1
90kVA
Spot Welder
Panasonic
2
50kVA
Spot Welder
Panasonic
1
35kVA
Stationary Spot welder
Daihen
1
95kVA
Portable Spot Welder for Aluminum
OBARA
1
Reach1000 150KVA
Plasma Cutting Machine
Panasonic
1
-
Vibro Shears
Horii
1
3.2×φ1000m/m
TIG Welder
Panasonic
2
-
Stainbrite
TAIHOKOHZAI
1
-
Special Type Welding Machine
Toyoseiki
1
Heat MAX350℃
STUD Welder
NIPPON POP RIVETS AND FASTENERS
1
DCE1800 Head゙PLM560
Riveting
SPR System
NIPPON POP RIVETS AND FASTENERS
1
Reach600
Drilling Machine
Drilling machine
-
9
φ30 2013
Radial Drilling Machine
Ooya
1
RE-1000A
Radial Drilling Machine
KAO
1
KMR-1600DH
Tapping Machine
-
4
φ13
Milling
NC Milling Machine
Shizuoka
4
750×450×400
Lathe
Large NC Lathe
Yamazaki Mazak
1
NEXUS400-Ⅱ φ580
General-purpose Lathe
Takizawa Iron
1
300×800
General-purpose Lathe
Wasino
1
500×860
General-purpose Lathe
Wasino
1
LE-19K
NC Lathe
Hitachi
1
190×320
Hole Machine
NC Narrow Hole Machine
Sodick
1
200×300×250
WEDM
Wire Electric Discharge Machining
Mitsubishi
1
MV4800 800×600×300
Wire Electric Discharge Machining
Fanuc
1
α-1ID 600×400×300
Injection Molding Machine
Injection Molding Machine
Sumitomo
1
SE100EV 100ton
Injection Molding Machine
Niigata
1
100ton 250×250×100 at Mold Size
Grinder
Flat Surface Grinder
Okamoto
1
800×600×250
Endmill Grinder
Sanyo
1
GE-120 Type
portable Grinder
Hitachi
1
200V 3.5A
Belt Grinder
Shimomura
1
200V
Polisher
Flat Surface Polisher
Wasino
1
500×200
Others
Bench Lathe
Katsukura
1
200×150
Bandsaw
Daito
1
S4560 up to φ450 Maximum capacity 620×450mm
Bandsaw
Nicotech
2
SCP-25SA up to φ300
Drill Polisher
DAREX
1
V290 φ3~φ19 polishable
Bender
Amada
1
RG-35S
FINE CUT
Heiwa
2
-
Pipe processing
NC Pipe Bender
Taiyo
1
TR-DR-30CNC-HR
CFRTP
Electromagnetic induction Heater
Roctool
1
300KW
Mold temperature controller
TECH HEIWA
4
1ch(30A)×6Ch
Electric furnace
Hata Electric
1
ELEPOT 1300℃MAX・Φ620×650
Perfect oven
ESPEC
1
600×600×600 Max300℃
Injection Equipment
NISSEI PLASTIC
1
IU50AN 200t
Abrasive Water Jet Cutter
SUGINO
1
Cutting range 2000×1500 Robot specifications
High Pressure Water Storage Tank for mold cooling
Todax
1
Impoundment 1500? Flow 400?/min
Vacuum Equipment
ULVAC
1
measuring range 0.4~3000Pa
Crane
Hand Cart
Overhead Crane
Nippon hoist
1
15ton/7.5ton Parent and Child
Overhead Crane
Nippon hoist
7
10ton/5ton Parent and Child
Overhead Crane
Nippon hoist
1
5ton/2.8t Parent and Child
Overhead Crane
Nippon hoist
1
2.8ton
Single Leg Crane
Nippon hoist
4
2.8ton
Jib Crane
Kito
1
2.8ton
DC Battery Hand Cart
Nippon hoist
1
25ton
Fork Lift
Fork Lift
NIssan Fork Lift
1
7ton
Fork Lift
NIssan Fork Lift
1
4ton
Fork Lift
Sumitomo Fork Lift
1
3.5ton
Fork Lift
Sumitomo Fork Lift
2
2.5ton
Fork Lift
Sumitomo Fork Lift
2
2.5ton electric
Fork Lift
unicarirriers
1
3.0ton electric
Fork Lift
Toyota
1
2.5ton
Reach ForkLift
Sumitomo Fork Lift
1
1.8ton
Reach ForkLift
Sumitomo Fork Lift
1
1.5ton
Measuring Equipment
3D Measuring System
GOM
1
ATOS ScanBox 8260
3-D Measuring Machine
Mitutoyo
1
CRT AS9106 (905×1005×605・RangeX,Y,Z)
Multi-joint Non-contact Measuring Machine
Faro Japan
1
Scan Rate:28scan/sec(640point/1sec)(13,400point/sec)
Multi-joint Measuring Machine(with shape measuring)
Hexagon Metrology
4
ROMA ABSOLUTE ARM 10ft 7axis arm
Multi-joint Measuring Machine(with shape measuring)
Hexagon Metrology
2
ROMA ABSOLUTE ARM 9ft
Multi-joint Measuring Machine(with shape measuring)
Hexagon Metrology
1
ROMA ABSOLUTE ARM 8325 7axis arm
Contour Shape Measuring Machine
Mitutoyo
1
CV-3200
Tension Tester
Aichi Sangyo
1
50KN
Tension Tester
Aichi Sangyo
1
ART-5 50KN
Tension Tester
Shimazu
1
AG-100KN
Image Measuring Machine(Quick scope)
Mitutoyo
1
QS200 (200×250×100・RangeX,Y,Z)
Micrometer Scope
Keyence
1
VHX-500F (Mag.25~175)
Micrometer Scope
Keyence
1
VHX-5000 (Mag.20~2000)
Non-Destruction Spot Measuring Machine
Nadex
1
RSWA for Spot Nugget diameter measurement
Inner Micrometer
Mitutoyo
1
3~28・5~30・25~50・75~100・100~125・125~150
Inner Micrometer
Mitutoyo
5
5~30・25~50・50~75・75~100
Outer Micrometer
Mitutoyo
1
0~25・25~50・50~75・75~100・61~150
Outer Micrometer
Mitutoyo
9
0~25・25~50・50~75・75~100
Blade Micrometer
Mitutoyo
2
0~25・25~50
Point Micrometer
Mitutoyo
2
0~25
Outside Micrometer
Mitutoyo
1
0~25・25~50
Caliper
Mitutoyo
1
10~22・20~32
Surface tester
Mitutoyo
1
SJ210
Protractor
-
2
-
Block Gauge
-
1
BMI―F112/1-0 t1.0~t100.0
Block Gauge
Mitutoyo
1
BMI―F112/1-0 t1.0~t100.0
Pin Gauge
-
1
1.0~13.0(0.025step)13.0~19.0(0.1step)
Pin Gauge
-
1
1.0~13.0(0.025step)13.0~19.0(0.1step)
Plug Gauge
-
1
72 kinds
Feeler Gauge
Mitutoyo
1
0~10
Cylinder Gauge
Mitutoyo
1
6~10・10~18・18~34・35~60
Ring Gauge
-
1
100 kinds
Master Ring
-
1
20 kinds
Micro Vickers Hardness Tester
Marumoto Struers
1
Durascan-70
Rockwell Hardness Tester
Mitutoyo
1
HR-400
Dual Type Film Thickness Meter
Kett
1
LZ-370
Fine Cutter
Marumoto Struers
1
Secotom50
Automatic Resin Filling Machine
Marumoto Struers
1
CitoPress-1
Automatic Cleaner
Marumoto Struers
1
Lavamin
Automatic Polisher
Marumoto Struers
1
Tegramine 25FC
Test Polisher
IMT
1
Rana3 φ250㎜
Ultraminitured Thermal Image Sensor(Thermography)
Apiste
1
Measuring Range -40℃~500℃
Digital Vernier Caliper
Mitutoyo
9
100・150・200・300
Vernier Caliper(including digital)
-
33
150~1000
Digital Height
-
8
300~600
Digital Height
Mitutoyo
2
300・600
Classification
Name of machine
Manufacturer
Count
Remarks
Machining Center
Double column type MC
Okuma
1
MCV-AⅡ (4000×2000×1000)
Double-Column 5-Face Precision MC
Okuma
1
MCR-A5CⅡ (4000×2000×1000)
Double-Column 5-Face Precision MC
Shinnihon Koki
1
RB-4VM (4000×2000×1200)
Milling
Machine
CNC Milling Machine
Okuma
1
4V-NC (435×450×1300)
Multi-Purpose Milling Machine
Osaka Kiko
1
MH-3V (650×1650)
Lathe
Lathe
Tsuda
1
TSL-1800 (1800×900×170)
Grinder
Flat Surface Grinder
Nagase
1
SGW64 (300×600)
Forming Grinder
Okamoto
1
Forming Grinder
drilling Machine
Radial Drilling Machine
Ikeda Koki
1
RMA-1300 (1300)
Radial Drilling Machine
Otori Koki
1
BR-20
Radial Drilling Machine
Ogawa
1
HOR-D1700
Band Saw
Band Saw
Amada
2
V400
Welder
Electronic Welder
Osaka Denki
3
BZ-200F-3
Argon Welder
Panasonic
1
YC-300BZ3
Argon Welder
Panasonic
1
PANA-TIG
Press
Mechanical Press
H&F
1
1000ton table2200×3500 stroke800
Shearing
Shearing
Amada
1
MAX3.2mm
CAD
CAM
CAE
2-D CAD
Autodisk
1
Auto-CAD LT
3-D CAD/CAM
Nihon Unisys
4
CADCEUS
3-D CAM
Nihon Unisys
1
CADCEUS
3-D CAM
Sesukuwa
1
Work NC
2-D CAD CAM
Camtus
1
speedymill/win
CAD PC
Camtus
1
3DTascalX
Others
Drill Polisher
Iida
1
YG-50