ASANO PRIDE AS A CRAFTSMAN

VOL.4 : SHIGERU IMAI

Vol.4 SHIGERU IMAI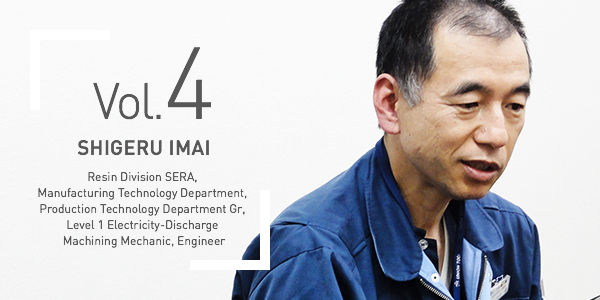 Spring of 2010 was the first time for him to travel in China together with his family. In autumn of this year, he got the changing department announcement. "Shigeru Imai, will be appointed to go to China to work in 2011". It can be unbelievable that I will work in China where I never dreaming to go.For the first business of Asano Company in China, the total of 5 Samurai (workers) including Imai are about to depart.

Youth on fish
Pleasure for manufacturing is still
Do you know the goldfish with bubble eye*1? It's squat and humorous, one kind of goldfish. The goldfish's name which is the origin of the Qing dynasty of China was also called ""a swimmingjewel"". It's also called ultimate goldfish, with more than several million yen at most for each. Imai raised goldfish with bubble eye in the pond of his courtyard. Because the goldfish was purchased from the breeding businessman, he is a die-hard fan. He dug the pond by himself. In order to breed very delicate goldfish with bubble eye, he set up circulation device to make it done correctly.
Recently, he has had some painful experience. The carps which he carefully bred all died because of pump failure. Later, in order to avoid such thing happening again, he was more careful. Just at this crisis, he was to be sent to China. With mild expression, Imai thought of entrusting his wife with his beloved goldfish.
He liked fish when he was a child. There was a pool in front of his house and even to now he still likes breeding goldfish. He studied aquatic discipline in the agriculture department of Kinnki university, which is a famous university firstly breeding bluefin tuna successfully in the world. In the 70s, when Imai practiced on the ousima experimental field in kusimoto of wakayama county, the bred bluefin tuna produces eggs and soon the artificially hatched fry became into big fish. Thus repeatedly, today fruits are finally born, which makes people feel a lot.
After graduation, for his friend's building a farm, he went to Himeji and bred ayu. The farm started from scratch for two years in the remote mountain. It can be said that it was this experience that reflected his current manipulative ability. ""Building a farm, processing metal mould and manipulative processing, etc are the same in property. Hands-on work world will never change. I just like making things and it has nothing to do with what I make"" Imai says so.