ASANO PRIDE AS A CRAFTSMAN

VOL.2 : OSAMU KATOU

Vol.2 OSAMU KATOU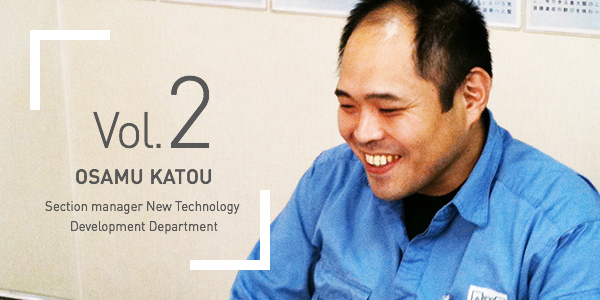 Product manufacturing of Asano is geared to the world. Asano took an opportunity from the "Shanghai International Automobile Industry Exhibition" in the summer of 2010, and expected to accelerate internationalization development in the future. In Japan, "Stars of Asano", who challenge the product manufacturing with top quality, work unremittingly to meet clients' requirements. One of them is Osamu Katou, an expert with 20-year experience. Behind Katou's shy smiling face, there is great enthusiasm for product manufacturing. Now, let us introduce him!

Work to continue making the world's first
Open up new ways of manufacturing
In March 1991 when the after shock of the bubble economy still existed, Katou started to work in Asano. At that time, the trial-manufacturing industry had already produced the Shinkansen 300 series trains(*1) with the maximum speed of 325.7 km/h. When the economic prospects were clouded with uncertainties, the product trial-manufacturing industry continued to draw the world's attention.
The reason why Katou went to work in Asano was that he was attracted by the product manufacturing of Asano. He might unconsciously pursue the figure of his father and his childhood dream to enter Asano.
As long as he can remember, there was a construction site next to his house and Katou grew up by watching his father concentrate on making steel components. His childhood memories were full of sparks of cylinder covers of engines and the continuous rotation of crankshafts around the moving pistons. "Till today, I am excited when seeing a bell-type mechanical clock." Katou says. His innocence still retains on his face and in his speech.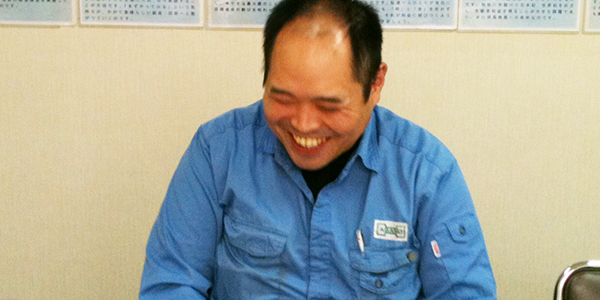 It seemed natural for Katou to choose a local Industrial High School to gain higher eductation. His high school was full of interests in product manufacturing. He learnt more knowledge by using lathes to cut metal, programs of machining center(*2) and CNC machine tools(*3), product manufacturing and parts design with a CAD system(*4).
Katou finally came to the critical turning point in his life. At that time, many companies, some of which were well-known listed companies in the automobile and electronic industry, offered Katou generous conditions. "A lot of people choose jobs for a stable environment, wage and vacation, but …" he said. He recalled his career in Asano, believing that he had chosen a right path, from which his foresight can be seen. He said that "I would like to make a challenge to try out unique and latest stuff."
Katou and President Asano were schoolfellows at high school. It is not difficult to judge that Katou decided to join Asano because of President Asano, who wanted to be No. 1 in the world. Since his entry, Katou is active in the trial-manufacturing field. A company with less than 50 employees since his entry owns more than 300 employees now. In the future, it will take steps in overseas trial-manufacturing field.