PROJECT.H

VOL.2 : OSAMU KATOU

Vol.2 OSAMU KATOU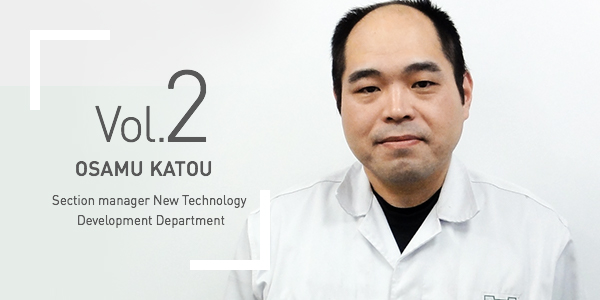 KATOU is a lump of endless aspiration.
hrough a scale model manufacturing at project H in "Visualization of techniques",
he took one step to the dream ever since entering ASANO Co.,Ltd. that he makes a car all in-house.
Let's introduce KATOU,a man of high resolve,
and how tackled with the beauty of surface treatment as the person in charge of carbon forming in the project.

New roadblock
challenge to high hurdle
He belongs to a department of 6 men. His department is small but has highly skilled work forces, where rich experience persons, such as quality assurance experienced person in addition to KATO, are gathered.
His department is also tackling new materials research while dealing with metal basically.
Carbon is one of trendy materials in automobile industry. KATO learned carbon first time when he was transferred to New Technology Development Department. While he was tackling unknown carbon material, the subject he proposed to "support industries*3", the national manufacturing support program to basic technologies, was adopted. His subject is "forming technology development of large and complex figure products for automobile with thermoplastic*4 CFRP.
KATO joined "Visualization of techniques" project while he was building up basic knowledge of carbon through the subject. Though he built up knowledge through his work, he felt that he needed further experiences.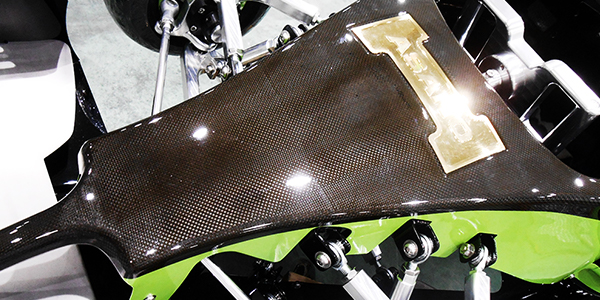 It was when he was discussing what they manufacture in a project meeting.
It turned out to be a conclusion that they'll manufacture a car door with combination of carbon and aluminum. KATO was relieved to hear it. It is because he can cover by his experience of forming as long as the size is not big.
But, it was changed to a scale model of F1 car while studying the subject. Actually, his boss proposed it.
As the size of F1 car is beyond his experience, he expected that there would be a great technical hurdle.
He felt dizzy this time though he succeeded 100% in the past. In addition to it, his department has fewer persons than those of production department. He lost himself.