PROJECT.H

VOL.2 : OSAMU KATOU

Vol.2 OSAMU KATOU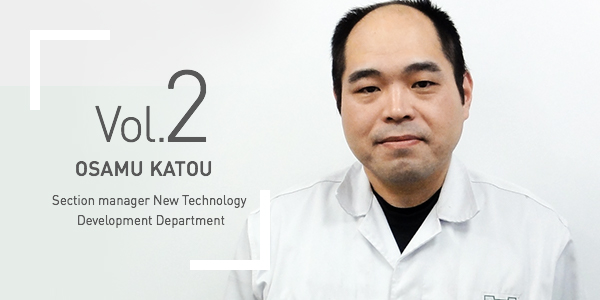 KATOU is a lump of endless aspiration.
hrough a scale model manufacturing at project H in "Visualization of techniques",
he took one step to the dream ever since entering ASANO Co.,Ltd. that he makes a car all in-house.
Let's introduce KATOU,a man of high resolve,
and how tackled with the beauty of surface treatment as the person in charge of carbon forming in the project.
Sailing with encouragement
dreaming of far Germany
His boss, who proposed the manufacturing of scale model of F1 car, pushed him. A word, "it's now or never", from his boss encouraged him. He burned a fighting spirit in his mind that ASANO Co., Ltd. will appeal its technology in the country of technology "Germany".
When he think calmly, he noticed that he can make use of his experience to the mold making for the new material. In addition, many troubles happened through the manufacturing, but he overcame all of them. His experience changed to his confidence in challenge to the new.
He was astonished at the body size and seat size of the car. The mold of 1500mm×1200mm is all deep drawings and that integral molding. He must finish it in a short time. CFRTP, which becomes hard when it is cooled, has to be processed while it is soft by heating. He puts cotton work gloves on for detail hand work, however he finishes forming before the heat reaches to the glove and CFRTP becomes hard when the heat reaches his hands.
It is extremely difficult to form high-heated CFRTP into complex figure. CFRTP and resin are same plastics, but their behaviors are quite different.
It was extremely difficult for him to form large size of CFRTP by deep drawing. He encountered an accident at 1st trial that the die was broken, but he never gave up and repeated forming works.